Chan Sung Jung facts
| | |
| --- | --- |
| Birth Place | Pohang, South Korea |
| Father's Name | To be updated |
| Mother's Name | To be updated |
| Star Sign | Pisces |
| Net Worth (2022) | $2 million |
| Last Fight Earnings | $171,000 |
| Age | 35 |
| Date of Birth | March 17, 1987 |
| Education | Daegu Gyeongbuk Institute of Science and Technology. |
| Nationality | South Korean |
| MMA Debut | June 24, 2007 |
| MMA Record | 17-6 |
| Divisions | Featherweight |
| Achievements | Fought once for the UFC featherweight title in 2013 |
| Wife | Park Sun-young |
| Children | Two daughters- Jung Min-Seo and Jung Eun-Seo, and a son |
On the 17th of March, 1987, Chan Sung Jung was born in Pohang, South Korea. Due to his parents' busy schedules, he spent his childhood with his aunt.
He began kickboxing at a young age and went on to Daegu Gyeongbuk Institute of Science and Technology to complete his education.
His kickboxing record is 15 wins and 6 losses, which is extremely amazing. On the 24th of June, 2007, the South Korean made his MMA debut and joined the UFC four years later.
He is currently listed as the UFC's number four featherweight.
Net Worth and Salary of Chan Sung Jung
Chan Sung Jung's net worth is estimated to be in the $2 million range. He would have made a lot more money if it hadn't been for his 4-year break.
On November 10, 2018, during UFC Fight Night 139 at the Pepsi Center in Denver, Colorado, Chan Sung Jung of South Korea waits for his introduction to begin against Yair Rodriguez of Mexico in their Featherweight bout. (Image credit: Getty Images/Matthew Stockman) )
His total earnings in the UFC are over $1 million, with his biggest paycheck being in December 2019 versus Frankie Edgar. That night, he was paid $195,000.
Chan Sung Jung took home $65,000 in his UFC debut against Leonard Garcia. Jung received $171,000 during his last bout with Dan Ige.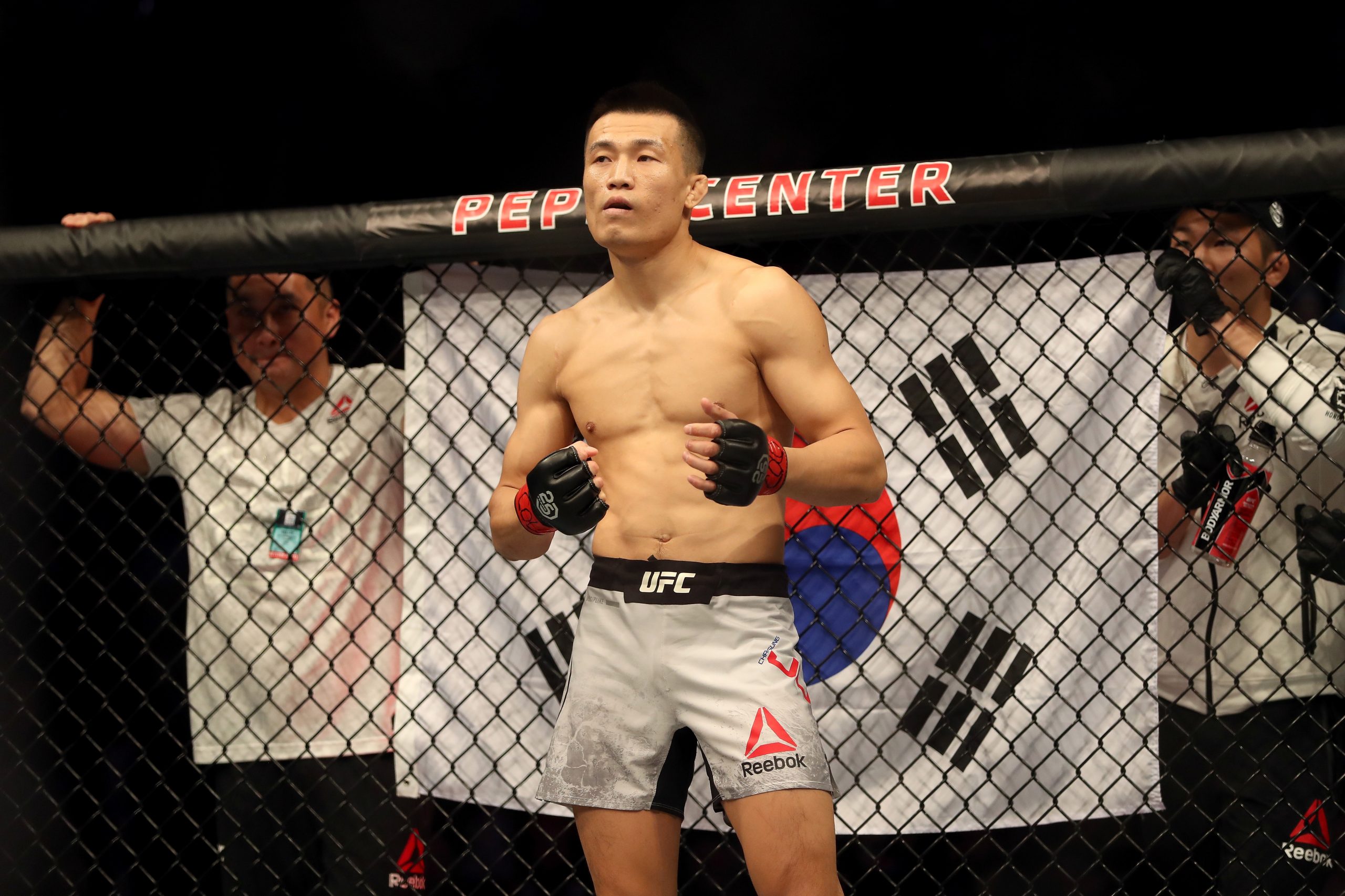 MMA and UFC records of Chan Sung Jung
In June of 2007, Chan Sung Jung debuted in mixed martial arts. During his early career, he worked on promotions primarily in South Korea and Japan.
He went 9-0 in his professional MMA career in less than a year and a half. The Korean Zombie joined the WEC (World Extreme Cagefighting), a division of the Ultimate Fighting Championship, in 2010. At WEC, he was defeated in both of his bouts.
Despite this, he was signed to the UFC and made his debut on March 26, 2011, with the organization.
HOUSTON, TX – FEBRUARY 04: South Korean Chan Sung Jung prepares to face Dennis Bermudez in a featherweight contest at the Toyota Center on February 4, 2017, in Houston, Texas. (Image: Getty Images/Tim Warner)
Jung famously defeated Dustin Poirier in 2012 by technical submission due to a D'Arce choke. Following that win, he was challenged for the featherweight belt against Jose Aldo but was defeated by the Brazilian.
Due to compulsory military service in South Korea, he had a nearly four-year sabbatical. On the 4th of February in 2017, he returned with a bang, knocking out Dennis Bermudez with a spectacular blow.
He now has a 17-6 record in MMA.
Related – Rowan Atkinson's Net Worth, Career, Personal Life, and more!
Wife, Family, and Endorsements for Chan Sung Jung
His parents' names aren't well-known. Chan Sung Jung, on the other hand, has spoken about his upbringing in several interviews. His father worked in the steel business, where he was responsible for placing and removing hot items from ovens, while his mother owned a clothing store.
Because his parents were so busy, Jung said he spent much of his childhood with his aunt and another neighboring family.