Demi Moore Net Worth:
$200 Million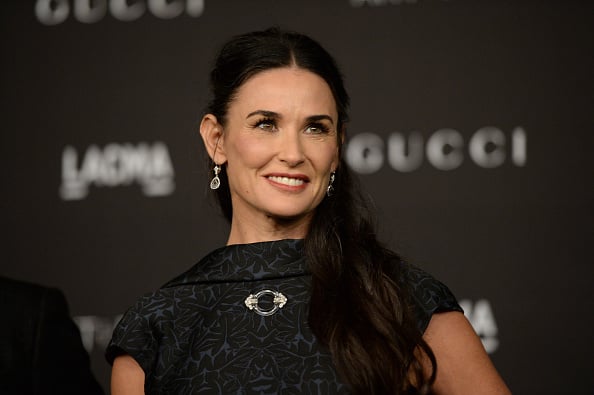 Demi Moore's Net Worth
Demi Moore has a net worth of $200 million as an actress and producer in the United States. Since the early 1990s, she has been one of Hollywood's top actresses. She has two Golden Globe nominations for Best Actress and has been one of the highest-paid people in the industry at various stages in her career. Demi earned $90 million in cash and real properties in a divorce settlement with Bruce Willis, in addition to her large acting income. Over the years, she has also made a fortune through real estate transactions. More information on both of those sources will be provided later in this essay.
In the mid-1990s, Demi became the highest-paid actress in film history (up to that moment) when she was paid $12.5 million for the film "Striptease." That's around $20 million today. In the years since the record has been broken numerous times. In 1997, she was paid $11 million for her role in "G.I. Jane."
$3 million for "A Few Good Men," $5 million for "Indecent Proposal," $6 million for "Disclosure," $7 million for "The Scarlet Letter," and another $7 million for "The Juror," are among the other significant wages. Demi made roughly $60 million in base pay alone during her best years as an actress, equivalent to around $100 million today.
Demi has made a fortune as a film producer behind the scenes. She was the executive producer on all three films in the "Austin Powers" trilogy.
Childhood
Demi On November 11, 1962, Gene Guynes was born in Roswell, New Mexico. After adopting the last name of her first husband, Freddy Moore, she became known as Demi Moore. Moore's real father, Charles Harmon Sr., divorced her mother after only two months of marriage, and Moore's mother married Dan Guynes when Moore was three months old. Guynes is Moore's father.
Due to Guynes' repeated employment shifts, the family relocated to West Hollywood, California, when Moore was 15 years old. She went to Fairfax High School until her junior year when she dropped out and moved out at the age of 16. She subsequently joined the Elite Modeling Agency and began acting lessons.
Career
Moore made his acting debut in the 1981 drama "Choices," followed by the 1982 science fiction horror picture "Parasite." She then went on to star as an investigative reporter in the ABC soap series "General Hospital" until 1983. She starred in two comedies in 1984: "Blame It on Rio" and "No Small Affair."
Her appearance in the drama "St. Elmo's Fire" (1985), for which she is commonly associated with the Brat Pack, was the great commercial breakthrough that gained her broader notoriety. She wrapped up the 1980s with roles in the films "About Last Night…" (1986), "One Crazy Summer" (1986), "Wisdom" (1986), "The Seventh Sign" (1988), and "We're No Angels" (1989), as well as an off-Broadway production of "The Early Girl" at the Circle Repertory Company in 1986.
Moore's career hit a pinnacle with the 1990 film "Ghost," which grossed over $505 million and was the year's highest-grossing film. It's also one of her most successful films, earning her a Golden Globe nod. With the blockbuster hits "A Few Good Men" (1992), "Indecent Proposal" (1993), and "Disclosure" (1994), she retained her A-list position, but she also acted in the lesser-known films "Nothing but Trouble" (1991) and "The Butcher's Wife" (1994). (1991).
Moore's box office began to decline in the late 1990s. Despite becoming the highest-paid actress in film history for her $12.5 million salaries for her role in "Striptease" in 1996, many of her projects during this time period failed to wow. Moore got the Golden Raspberry Award for Worst Actress after "Striptease" flopped at the box office in the United States. Her flicks "The Scarlet Letter" (1995) and "The Juror" (1996) were likewise panned. However, not all of her films during this time period were flops; in 1997, she had a moderate economic hit with "G.I. Jane," and she also portrayed Esmeralda in Disney's animated feature "The Hunchback of Notre Dame" (1996). She also received her second Golden Globe nomination for her lead part in "If These Walls Could Talk," a controversial HBO drama on abortion that she also produced.
Moore took a break from acting in the early 2000s, appearing in only a few productions while raising her daughters in Hailey, Idaho. "Passion of Mind" (2000), "Charlie's Angels: Full Throttle" (2003), "Bobby" (2006), and "Flawless" are among them (2008).
After 2010, she resumed acting, taking on more regular and frequent roles. She appeared in the movies "Happy Tears" (2010), "Bunraku" (2010), "Margin Call" (2011), "Another Happy Day" (2011), "Blind" (2017), "Rough Night" (2017), "Love Sonia" (2018), and "Corporate Animals" (2018). (2019). Moore also appeared in "LOL" (2012), "Very Good Girls" (2013), "Forsaken" (2015), and "Wild Oats" during this time (2016). She also directed a portion of the Lifetime anthology film "Five" in 2011, for which she was nominated for a Directors Guild of America Award for Outstanding Directing – Miniseries or TV Film.