Every year, Hallmark is known for providing viewers with a variety of touching stories and interesting characters. 'Tis the Season To Be Merry,' directed by Gary Yates, follows Merry, a successful dating advice writer who creates a book about her real-life romantic adventures, with a fictional fiancé Dale who is almost perfect. When her publisher believes Dale is real, Merry is torn between telling the truth and lying. Merry runs across Adam, the brother of her best friend, as she returns home to think of a solution.
Despite the fact that they are as dissimilar as chalk and cheese, they eventually discover that they have more in common than they realize. Merry resolves to break her own rules for Adam as the two grow closer as she sees her fictitious character come to life. 'Tis the Season to Be Merry,' a moving romance set in a snowy town during the holiday season, is a lovely story to see with loved ones. You've found an ally in us if you want to know where this movie was shot. Let's have a look at it together.
Filming Locations for "Tis the Season to Be Merry"
'Tis the Season To Be Merry' was filmed in Manitoba, notably in Winnipeg, despite the plot being set in gorgeous Vermont. Principal photography began on October 19, 2021, and ended in November of that year. Manitoba is a popular movie location due to its beautiful scenery and diversified geography. The arctic tundra, breathtaking coastlines, lush woods, massive lakes, and prairie grasslands all come together to create the ideal backdrop for a variety of films and television series.
Related – Miss Scarlet and the Duke Season 2 – All You Should Know
Aside from its scenery, the province boasts a number of other advantages, including regional tax incentives for filming, access to cutting-edge production technology and equipment, and a well-connected network of professional actors and crew. 'The Haunting in Connecticut,' 'Nobody' (2021), Netflix's 'There's Someone Inside Your House,' 'Tales from the Loop,' and 'Channel Zero' were among the films and shows shot in Manitoba. Here are some additional data about the 'Tis the Season To Be Merry' filming sites.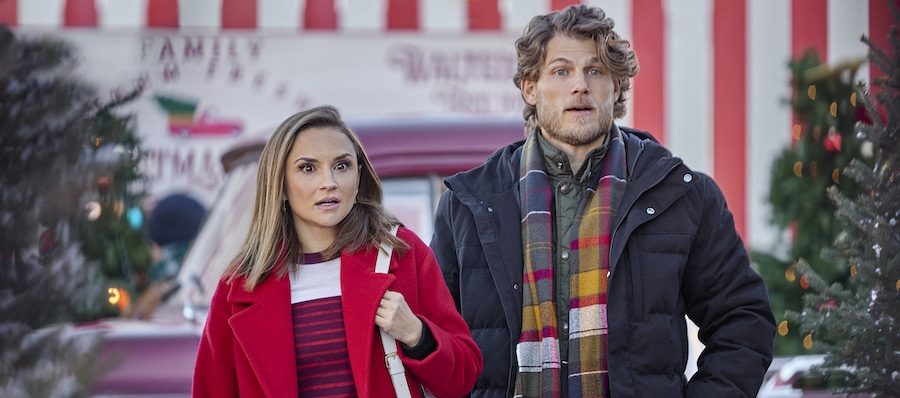 Winnipeg is a city in Manitoba.
The movie 'Tis the Season To Be Merry' was shot in Winnipeg, Manitoba's capital. Deer Meadows Farm, a huge family-owned farm, as well as Bannatyne Avenue were used for filming. The city features exquisite 20th-century architecture and is a thriving center for music and cultural festivals. In Winnipeg, films such as 'The Italian Job,' 'A Kiss Before Christmas,' and 'Snowed-Inn Christmas' were filmed.
The cast of "It's The Season To Be Merry"
Famed for her role in 'She's All That,' Merry Rozelle, a well-known author torn between fact and fiction, is played by Rachael Leigh Cook. Cook has also been in the films "Love, Guaranteed" and "Cross Country Christmas," as well as the hit television series "Criminal Minds." Travis Van Winkle plays Adam, a dynamic aid worker and Merry's closest friend's brother. The films Transformers' and 'Friday the 13th,' as well as the Netflix series 'You,' are among Van Winkle's significant achievements.
Related – Too Hot To Handle Season 3 – Every Update on Release Date, Cast, and Plot in 2022
'Tis the Season To Be Merry' also stars Amy Groening (Darlene), Adam Hurtig (James Smith), John B. Lowe (Bill Walters), and Karen Malina White (Sonia Hendricks), Paul Essiembre (Joe Manning), and Micaela Lozano (Julie).